Here is an updated sampling of our web design portfolio.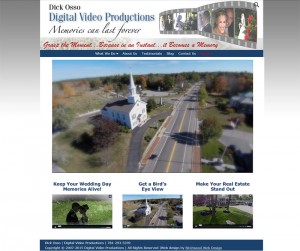 "When Google decided that 'Mobile Friendly' was the only way, I was stuck. So I contacted Beth to explain to me how do I survive. Without going into tech talk that I didn't understand, she walked me through the process. Today, she handed me the keys to my new website. It is what I wanted. Simple with an elegant look. All my videos work in a great display. It works when I use my cell…..and that's the point. So instead of waiting, or wondering why no one is calling, do yourself a favor…call Beth. She also adds the secret sauce. She 'optimizes' key words that allows your webpage to be found when clients Google. For the last 5 years, when I type in what I do, my name, my business shows up in the top 3 Google searches. What more do you need?"
Dick Osso, Owner
Digital Video Productions
Hanson, MA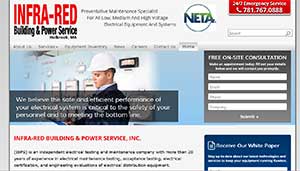 The Infra-red Building & Power Supply company's new site included an updated look and feel, is mobile-friendly.  Potential customers can receive a white paper for signing up for their newsletters, request a consultation, or contact them quickly if they have an emergency.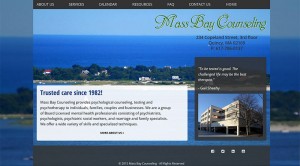 MassBay Counseling, a long-time client of Birchwood Web Design, decided to get a complete makeover to make their site more modern and mobile-friendly.  They went with an ocean theme in keeping with their Quincy, Massachusetts location, but also because it provides a serene look for visitors. Karen Wong Photography did an excellent job, providing the background image as well as the photographs of staff and building.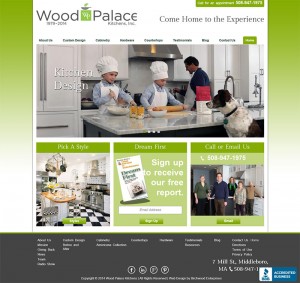 Wood Palace Kitchens wanted their website to direct the visitor in one of three directions:  take a look at their kitchen designs, send for their "Dream First" ebook, or call for an appointment to visit the showroom.  Their updated, mobile-friendly website does all of that.  The owner is also an avid blogger, frequently adding updated content and interesting articles for visitors to read.  His previous site was in html and because he was very well indexed in the search engines, we made sure that we redirected all of the old pages to the corresponding pages on the new site, thus retaining his optimization in the search results.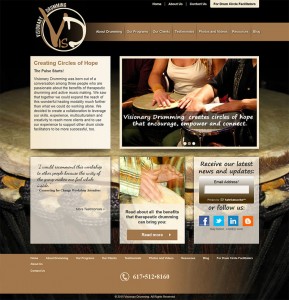 A group that facilitates drumming circles was looking for a site to promote their services and the benefits of drumming. The new, mobile-ready website shows off their skills beautifully.  The home page features testimonials about their work, a little bit about how the company was formed, and a link to learn more about drumming circles. They can also collect the email addresses of visitors who are interested in knowing more about them, so that they can continue to market to their target audience.  One of the owners of this company has another website that was created by Birchwood in the past, and also uses Birchwood for website updating and hosting.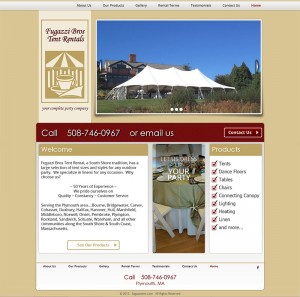 Fugazzi Tent in Plymouth, MA wanted a site that would reflect their clientele's needs, mostly large parties and weddings.  The visitor can see at a glance all of the services that they provide, and can contact Fugazzi quickly and easily.  Their familiar branding is prominently displayed, as well as images that reflect the sizes and styles of tents that they have available for rent.  This business owner was very particular about colors and style, and Birchwood happily accommodated the client, making tweaks and adjustments until they were completely satisfied.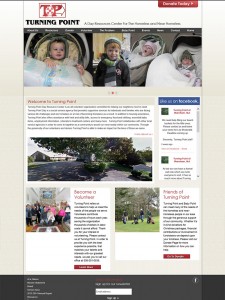 Turning Point of Wareham is a non-profit organization serving the needs of the homeless and near-homeless in the Wareham area.  They needed a site that would highlight their programs and draw volunteers as well as donors.  They wanted to have a Facebook feed on the site because they frequently post news and events, and wanted a quick way for anyone who is visiting their site to see those posts.  We made it easy to donate with a click of the mouse.  A visitor can see all of the programs they offer as well as fundraising events they have had in the past, and any upcoming events. With the WordPress content management system, volunteers can update the site themselves without having to call Birchwood Web Design every time they need to add or change content.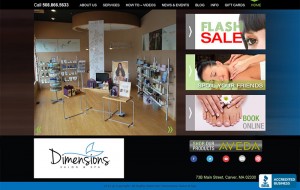 Dimensions Salon & Spa in Carver, MA needed a sleek, modern look to go with their image. A slideshow on the home page gives them the opportunity to showcase their products and services.