My son Tyson was diagnosed with Type One Diabetes when he was 21 years old.  I'll never forget it, the worst day of my life.  Seeing my son lying helplessly in a hospital bed, sick as a dog, hooked up to an IV drip asking "Why me?".  It was heart wrenching.  It was also hard to understand, because there was no diabetes in my family.
But then, the way he took control over his life from that point on was nothing short of heroic in my eyes.  We went from the hospital to the grocery store and stocked up on fresh vegetables and healthy, lean proteins.  He took his insulin as directed and checked his blood sugar levels several times a day, as the doctors had ordered.  He learned everything there was to know about the disease.  As a cheerleader at UMass Amherst, he was already very active and worked out regularly.  He visited the doctor regularly.
OK, he wasn't perfect.  He did drink too much beer with his buddies, which worried me no end!
After graduation, he went to work full time for the pizza shop in Scituate Harbor, where he had worked part time since he was 16.  It must have been hard for him to be around pizza all day and eat a salad, but he was determined to be as healthy as possible.  It seemed like he didn't have much choice but to stay with the shop.  Having graduated with a degree in hotel and restaurant management, many of his classmakes were jobless.  At least he had a steady job and health insurance, which had become very important.
In addition to the pizza shop, he was working part time coaching at a cheerleading gym.  Oh my, the little girls just loved having this six foot three handsome young man hold them up in the air with one hand!
But soon he realized his life was going in another direction.  He asked me what I thought of him getting personal training certification, and whether I thought he should get it online, or attend classes locally.  He had done his research and discovered that there was a program at Quincy Community College.  Of course, I quickly endorsed the idea, and told him I felt that going to school locally was the best idea.  He would have contact with the instructors and develop relationships that one just can't do online.
So he enrolled, and his life changed forever.  This average student became an A student, completing the program with special awards and accolades.  He got a job at the YMCA in Hanover and started getting private clients as well.  Then he started writing articles that got published in the local newspapers, including one titled "How Diabetes Saved My Life", which made me cry.  He was on a mission to help people get healthy, and help diabetics stay otherwise healthy despite their disease.  The year after his graduation from the program, he was asked to be a speaker at that graduation ceremony.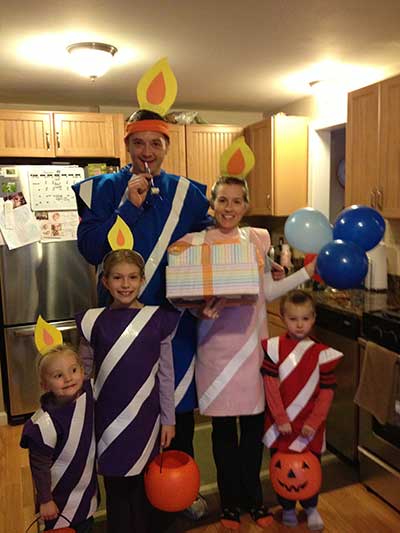 Tyson has always been one of those people whom everyone loves.  His clients love him because he pushes them to do better, move more, and be healthier.  As an employee of the Y, he goes above and beyond his job description to help the members, running a golf tournament on his own every year to raise money for the Y.  Last year, he received special recognition for his efforts and the annual staff and volunteer appreciation dinner.
His latest project, along with his good friend Paul, is to help raise money for research to find a cure for Diabetes.  They formed a company and have started an annual obstacle course and run.  The first one, held last November, was a huge success.  The next one is being held next December 1st.  It may seem like a crazy time to do it – I thought so myself last year.  Thanksgiving Day weekend?  With the possibility of snow?  But I soon learned that the people who enter these races are crazy too!  Over 300 people showed up.  They were able to get many sponsors, including the Joslin Clinic.
So of course I helped them with their website, TypeOneRenegadeRun.com and they've begun promoting this year's event, which will be held at Wompatuck State Park in Hingham, MA.  If you're brave enough, you can sign up on the website.
Oh, and he does all this while raising three beautiful children with his lovely wife Stacey.  Tyson, I love you.  You are my hero.